About Lobster Optimus
My name is Jeff Oosterman. I have been in various bands over the years. The first band that I was in that actually started writing our own material was "The Third Half" We got together in 1984. This band consisted of myself on bass, Eric Lahna on guitar, Joe Salah on drums and John Lister on lead vocals. This project lasted a couple of years then Eric left the band. Joe and joined John Graham (Johnny B. Goon) and formed "The Goon Squad." John Lister joined the band later. We recorded two albums with the Goon Squad; "In your Living Room Vol. 1: Soup" and then "Chemical Change". This was 1988-89. As always, a couple years later the band broke up. Joe and I started another project called "Boy Genius" (1993) with John Lister and David Vigeant on guitar. Later Joe, David and myself formed "Shynola" (1997) with Tammy Rondeau on vocals. Both Boy Genius and Shynola produced some great music however, none was ever recorded right.
in 2005 Sam Bowen asked me to join his new project that hadn't been named yet. Sam is a great musician, singer, songwriter that has been in the Christian acoustic music scene for several years. He wanted to form a new band to get back to his rock/blues roots. That was how "Silent Revival" came about. I am honored that Sam asked me to join Silent Revival and I thoroughly enjoy being part of it. In the fall of 2006 we went into the studio and produced the album "Speak to ME".
The concept for Lobster Optimus started several years ago. I wanted to produce a solo album but just never found the time. When I joined Silent Revival that filled the void I had for writing and performing for the time being. After we went into the studio to record "Speak to ME" I felt that it was good however, if it were up to me, it would have sounded a bit different. I needed to let out the creativity within me that was leftover.
In the early part of 2007 I got together the equipment I needed to start recording. Unfortunately, due to health reasons I was unable to get started until the Fall. Once I started recording, I found that there were certain things that I simply wasn't happy with. My vocals were not up to my own standards. I was writing lyrics but it was a real chore, it wasn't flowing the way I expected. I decided to make a couple phone calls.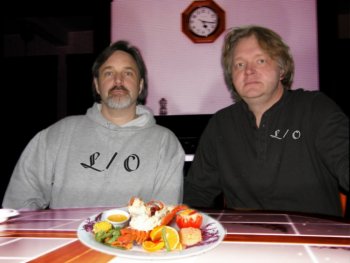 John Lister
John and I always wrote extermely well together and he has the voice I was looking for. John simply does not like to play live. With the Lobster Optimus project there is no plans to ever play live. It is simply to write and record.
I gave John a call and after about a week, I finally got a hold of him. He had no problem cooming by to join the project. Once we got back together it was like putting on a comfortable pair of shoes. Everything just fit. It's great to have John be a part of Lobster Optimus.
The Mission
What is Lobster Optimus? The short answer is that it is experimental music. There is no preconceception as to what it will sound like. If we come up with an idea, and we like it, we go with it. Sometimes an idea will take us into a new direction. Other times an idea will be inspired by something we did while we were in the Goon Squad. We never know what might bring out the next song.
We have gotten used to the process of writing and recording and further fine tuning. We are getting better at not only playing and singing but the recording and production as well. Needless to say, it is an ovarall artform like no other.