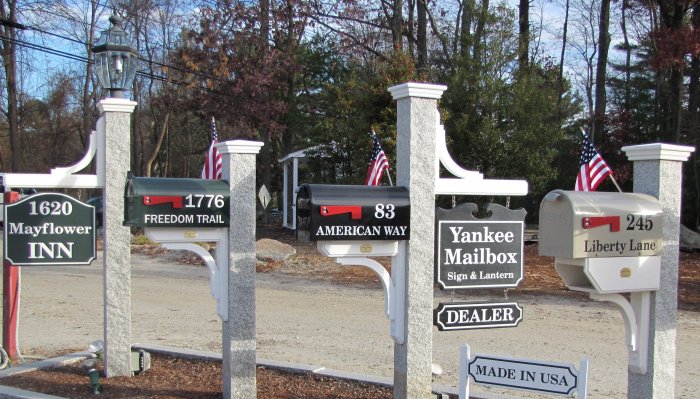 Welcome to Yankee Mailbox
Sign & Lantern


Since 1986, Yankee Mailbox has provided first quality American Made products and service to thousands of customers. Using the finest materials, highly skilled craftsmen, professional installers, and design philosophy rooted in American Tradition, Yankee Mailbox has earned the reputation for having the most durable and finest looking products of their kind. The rigors of New England winter with heavy snow, ice storms and snowplows provided the necessity for inventing our exclusive "Stabilizer System", fastening the mailbox to both the vertical post and support brace, making the strongest granite mailbox posts available.

"This winter many mailboxes in our neighborhood were destroyed by plows. No Yankee Mailboxes suffered this fate. My choice for a new mailbox and post was Yankee Mailbox without question." Michele MacDonald, Lancaster, MA

Our stabilizer block also features a flag holding slot. All customers receive a complementary American Flag. For the most durable finish, all cedar components are twice oil primed, and twice latex stained by hand, achieving a classic fine brush texture.

Yankee Mailbox Sign & Lantern provides installation and year round service within a 70 mile road route of our facility located at 777 Madison Street, Wrentham, MA. Our installers are trained professionals with a penchant for quality, courtesy, and utmost respect for your property. Customers outside our service radius can receive our mailbox, sign, lantern and support brace, including simple installation instructions carefully packed and shipped UPS Ground. We warrantee our mailbox posts, signposts & lantern posts for 10 years and guarantee your satisfaction with our installation. We have hundreds of unsolicited testimonials from satisfied customers.

"I would like to thank you for making such a great product. It is nice to know there is still top quality products made in the U.S.A. Not only is your product at Yankee Mailbox the best I have ever seen, your service is clearly top notch." Alan Fornier, Dudley, MA

At Yankee Mailbox, your personal information is confidential. We guarantee your satisfaction with our products and service. We understand a beautiful Yankee Mailbox will always sell another. Customers dissatisfied with product quality receive full product replacement with free return service. Customers dissatisfied with installation will receive free return service…guaranteed.

"Thank you so much for the beautiful lantern post and mailbox post..we are more than pleased! The installation was perfect, the timing was as promised. Most importantly, you were great to do business with."
Marie L. Holt, Hudson, MA

Often the first impression of your home, your mailbox, sign and lantern posts are a perfect opportunity to express your good taste and enhance the appearance of your property and neighborhood. Browse our site and place your order. Your order will be confirmed via email within 36 hours with detailed summary and pricing. You will be served within 4 weeks. Installation customers receive an invoice and PayPal payment link option that accepts credit cards via email after the job is done. Shipping customers receive an email quote and PayPal purchase link which accepts credit cards and can expect shipping within 3 weeks of purchase.